Outstanding Products Offered by Exhibit A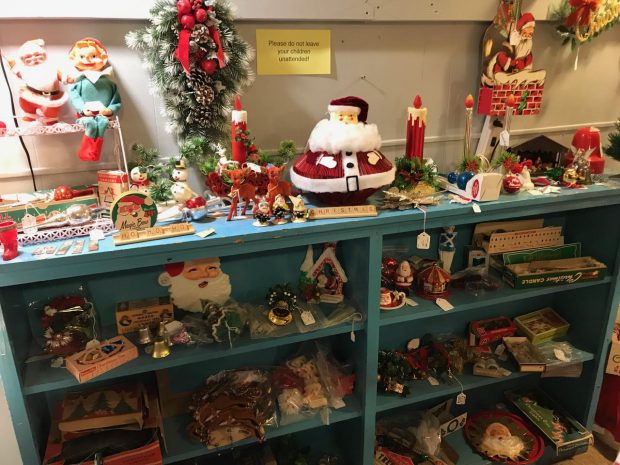 Are you searching for unique antiques and vintage home decor? If so, we have you completely covered, with a constantly changing inventory of one-of-a-kind pieces. With such a wide and varied selection of high-quality pieces, Exhibit A has become one of the most popular destinations for antiques in Clovis, NM.
Here are some of the many outstanding products that we offer all of our customers:
Vintage items and antiques: We carry vintage glassware, depression glass, kitchenware, retro kitchen items, crystal, vintage art, barkcloth curtains, vintage christmas, industrial items, industrial signs, furniture, clothing, toys, hand made wood items, crosses, vintage and fashion jewelry, watkins products, repurposed items, childrens clothing, plus vintage linens. Our merchants select our pieces with care, meaning every piece has passed multiple inspections and is truly both high quality and a one-of-a-kind piece that you won't easily find duplicated. Because of our dedication to providing a vast stock of unique items, we're highly regarded as the best vintage store in Clovis, NM. Some of our vendors offer military discounts!Having vintage pieces not only helps to recycle products, it also keeps an integral part of history alive, as each piece has a story to tell. We are extremely proud to offer such a vast collection of vintage jewelry, home furnishings, seasonal decor, crystal, kitchenware and depression glass in Clovis, NM.
Excellent customer service: We understand that each piece has a history, a story, and we want to be sure that you learn that story fully. We are dedicated to bringing you only quality pieces that you won't be able to find just anywhere. We also want to ensure that you feel the thrill of discovery as you wander our store. The charm of antiquing goes beyond any shopping experience at other retail stores, and we are committed to offering not only exceptional customer service, but also complete customer satisfaction.
Begin exploring Exhibit A today and see what you can find! Visit us at 318 N. Main St., Clovis, NM, 88101 or call us at 575-762-0391 to learn more about our selection and services. We hope you'll enjoy browsing through our stock and love to see customers walk away with a brand new treasure of their own.